Cacao Ceremony Training (Basic)
Experience the magic of Cacao Ceremonies and improve your well-being with this ancient practice. Learn the art of leading a Cacao Ceremony step-by-step from the comfort of your own home. Secure your lifetime access now—this special offer may be time-limited. Enroll now and you'll not only save 7%, but you'll also secure lifetime access to our courses and community. This is a rare, time-sensitive opportunity. Don't miss out!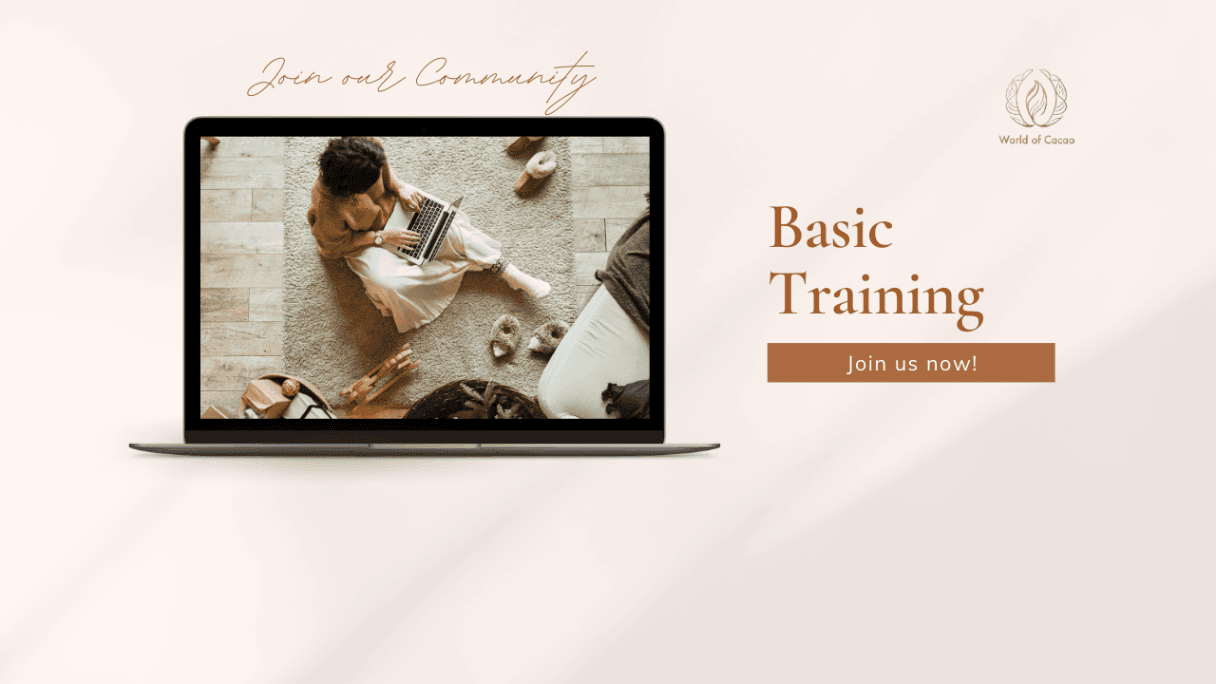 Cacao Ceremony Training (Basic)

You save $14,00


Duration: 4 weeks

Including:
- Monthly New Moon Cacao Ceremony (Online) for $264/Year


A step-by-step guide from A-Z to create and lead a truly sacred and transformative Cacao Ceremony


Detailed guidelines including practical worksheets for preparing Ceremonies


Access to our online course featuring specialized videos, detailed guides, and other resources


Special breathing, mindfulness and heart-opening

techniques

Developing the right mindset to get started and overcoming blokades

Foundational marketing and pricing guidance

Personalized action-plan & building your own community which shares your interests

Professional guidance in marketing & branding including exclusive templates for your use
Limited-Time Benefits Included in All Trainings

If you enroll today, you'll gain exclusive access to a global community of Cacao Ceremony Practitioners, along with monthly Q&A sessions and Online New Moon Cacao Ceremonies ($264/year).

Courses included

Cacao Ceremony Trainings (Basic)

Invest once for lifetime access to:

Cacao Ceremony Training (Basic)

A step-by-step guide from A-Z to create and lead a truly sacred and transformative Cacao Ceremony

Price: $147

eBook: From Seed to Ceremony

A quickly usable summary and guidline for Cacao Ceremonies
Price: $20

New Moon Cacao Ceremony

Experience our monthly New Moon Cacao Ceremony where we will gather for the New Moon with Mama Cacao

Price: $44 ($264/Year)

*Also payable in 2 installments

A thriving community
200+ students and counting

I liked how confident and free Nele was... she has a great energy that captured my attention through the whole course.
Ilga

What was your highlight of the Training? Definitely the Live ceremonies on the new moons, they were so transformative! I really loved the homework which helped me to build my connection with my inner wisdom and higher self.
Rita Szépfalusi

I loved Nele's energy & vibe. She covered everything so well and explained it all fully to give me the knowledge to carry out my own ceremonies. I loved all the short, easily digestible videos. I find this the easiest way to learn.
Donna
Frequently asked questions
Can I perform my own cacao ceremonies after completing the course?
Yes, you can use your newly acquired skills immediately and lead Cacao Ceremonies both online and in person.
How long does the training take? Are the modules activated at my own pace or are they live modules with fixed dates?
Each module consists of 3-5h learning material. You can easily learn the lessons and exercises at your own pace and set your own time for exercises and lessons. When you are ready, report to the author for review and evaluation.
Is the lifetime access to the courses a limited-time offer?
Yes, the lifetime access to our Cacao Ceremony Trainings is a special offer that we're currently providing. We believe in the transformative power of these courses and want to offer our students the opportunity to revisit the material whenever they wish. However, please note that this lifetime access offer may not be available indefinitely. We recommend securing your spot now to take advantage of this unique opportunity.
Do I get access to a community? If so where do I find it

Yes, at World of Cacao you will find a community of like-minded and open-hearted people. We have our own social network that is exclusively accessible to our students. You will find experts in the field of cacao who all share the same goals and support each other. You'll never be alone.

Can I do the whole course at my home or do I have to travel to another place at some point?

Of course, you don't have to go anywhere for this online training and you can experience the exercises of the practical part at your own pace and have no time pressure. When you have worked through everything and feel ready, you can take your exam.

Do I have lifetime access to the courses?

In addition to providing lifetime access to our courses, we also ensure that the content is constantly updated. We understand that the world of Cacao Ceremonies is ever-evolving, and we are committed to staying at the forefront of knowledge and practices.
What happens if I fail the exams?

You can repeat the exams as many times as necessary without incurring any additional costs. Please take each exam seriously, revise your notes and study all materials on our e-learning platform.
Is the course entirely in English

Yes, the course is only available in English

Do you show how to do online cacao ceremonies

Yes, in the training "Cacao Training (Advanced)" and the "Cacao Business Program" we show you how to create a sacred space online. You can definitely continue working with your clients online.

Do you help with sourcing the cacao?
Yes, we guide students on sourcing high-quality, ethical, and sustainable Cacao. Our focus is on empowering our students to make conscious choices.

Created with